Tesco withdraws plan to build new store in Buxton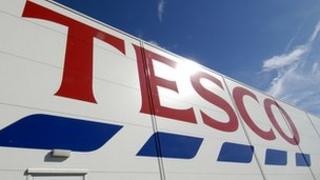 A supermarket has withdrawn its application to build a new store on the site of a mineral water botttling plant in Derbyshire.
Tesco had submitted plans to redevelop the land in Buxton, due to be vacated by Nestle when it relocates next year.
Now the retail giant says it is withdrawing the application so it can "reflect on feedback" it has received.
Campaigners who had opposed the planned store said they thought Tesco would return with fresh plans.
In September, the supermarket submitted plans to build a 6,601 square metre store with an underground car park.
'Grateful for comments'
Vision Buxton, a collection of community groups and local businesses, had opposed the development citing concerns about traffic congestion and the impact on traders in Buxton.
Matt Magee, Tesco's corporate affairs officer, said: "We have received lots of feedback about our proposals focusing on the design of the store. We have decided to withdraw our current application to allow us to reflect on this.
"We are extremely grateful for the comments we have received from organisations like the Buxton Group and Buxton Civic Association and we hope to respond positively in due course."
Richard Silson, from Vision Buxton, said: "In one way it's welcome but in another way it's not a final withdrawal.
"Tesco's own statement says they're withdrawing it for now in order to address some of the issues raised so we may be facing similar problems again in the future."