Derby knife amnesty nets 480 weapons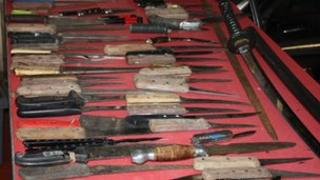 More than 480 knives and other weapons have been surrendered to police during a one-month amnesty in Derby.
The bladed weapons, including swords and machetes, were handed in at police stations across the city.
Police have also arrested five people in different incidents across the city after they were caught with illegal knives.
During the last amnesty in 2009, more than 200 knives were handed in for destruction.
The amnesty was carried out during November.
Operation Redshank, a specialist team set up to tackle gang crime in the city, organised the amnesty, which was supported by Derby County Football Club.
Supt Gary Parkin said: "The aim of the amnesty was to stop knives and other weapons from falling into the wrong hands and ultimately, to make the streets of Derby safer."
Supt Parkin said that several of the weapons handed in were home-made.