Buxton church asks community to adopt a grave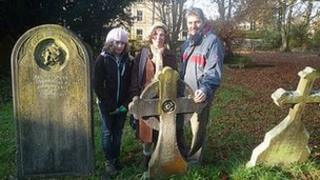 "The hardest thing," said church warden Jean Luton, "Was to get the name. Should it be 'Adopt a plot'? Or 'Groom a tomb'? Or 'Exalt a Vault?'."
She had taken on the task of restoring the churchyard of St John the Baptist in Buxton, Derbyshire, after years of problems with anti-social behaviour.
Money from a grant paid to clear 80 years of undergrowth but as funding rules excluded work on the graves, the church authorities decided an appeal to the community to Save a Grave might be the answer.
The church itself was built in the early 19th Century but the graveyard closed in 1930.
"After that is was just left," said Mrs Luton. "And it just grew and grew. There could have been a tribe of pygmies living in there and we would not have known.
"As it was, we had people in there late at night and we would daily have to clear syringes and condoms.
"I would walk my dog past the churchyard at night but I would not go in - you could hear people inside.
"It culminated when two rocks were thrown through the windows and we knew we had to do something about it."
A grant of more than £44,000 from the Community Spaces Groundwork UK was used clear a part of the grounds and build a garden of remembrance.
But its rules meant this could not be used on the 200 graves, a project with an estimated price tag of £10,000.
So the church turned to volunteers.
Mrs Luton said: "We had an open day and had to approach people with this odd idea of tending the grave of a stranger.
"Eighteen people said yes on the day and more have joined since. We let them walk through the churchyard and choose a grave which appealed to them.
"I don't know how they chose but nobody wanted the same grave, it was incredible.
"Many have wonderful details on the stones and there are a lot of children, and a lot of people have chosen children's graves."
Reopening ceremony
Volunteer Bridget Maddison said: "I thought it was just my crazy idea but when I mentioned it, the whole family wanted to come along.
"As we walked along, a shaft of sunlight came through the trees and on to a grave, so we all said 'That's the one'.
"They are fascinating places, they are full of traces of history and often very tranquil."
No repairs are allowed but volunteers are expected to keep the plots tidy and have been planting bulbs ahead of a reopening ceremony next April.