Derby Eagle Centre market or Guildhall market may close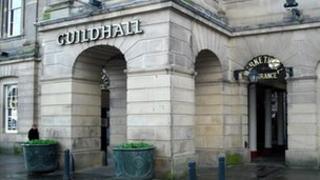 Derby City Council has been discussing closing one of its two city centre indoor markets.
The authority's yearly rental income from Eagle Centre and Guildhall markets has been reduced because not all the stalls are occupied.
The council stressed that it was still working on a strategy and closing a market was only one of the options.
Traders said they would resist closure if the proposals to shut a market were put forward by the council.
In a council meeting, the authority's chief executive, Adam Wilkinson, said the authority was considering the sustainability of having two markets and looking to reduce the amount of space for market stalls in the city.
'Fight on their hands'
When Richard Williams, the council's director of regeneration, was asked whether the council had discussed closing a market, he said: "Of course we've talked about it - it has to be an option, but it's just one option.
"With the Eagle Market, long-term it is only leased and it's almost inevitable Westfield [shopping centre] would want it back.
"Both markets have a lower occupancy than in previous years, but the council is looking at urgent steps that can be undertaken to attract more footfall and to let more stalls."
He added that the authority was reviewing the "structure and future functioning" of all of its markets and would be working with the traders' associations.
Linda Aston, who chairs the Guildhall Traders' Association, said: "Derby's always had two markets and the idea of closing one of them is really impossible because we're really two different types of market.
"Also, it won't be logical to shut one because there isn't enough room in either of the markets to maintain the high grade of stores.
"The best option is to spend some money on renovating the empty stalls and trying to encourage people in.
"But, if they [Derby City Council] do decide to close one of us, they'll have a fight on their hands."
She added that more traders were occupying empty stalls and believed all the stores would be taken within the next two years.
Since 2007, the council has been putting together a "Markets Strategy", but so far nothing has been put forward. A proposal is expected next year.