Derbyshire Police lift recruitment freeze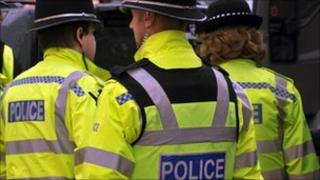 Derbyshire Police are to lift their freeze on recruitment and start to employ new officers from April, the county's police authority has said.
Philip Hickson, chair of the authority, said a freeze was introduced nearly two years ago as part of budget cuts.
Mr Hickson said that since then the force had saved £15m through different ways of working.
Officer numbers had declined over that period as people retired and new officers were needed, he said.
The number of new recruits to be employed has yet to be determined.
"We have to balance out what we have to do risk and threat-wise with the force with the reducing number of police officers," he said.
"We deemed that now is the time to use some of the reserves that we have built up to allow the chief constable to go ahead with some limited recruitment.
"Any organisation that doesn't bring new people in runs the risk of becoming a stale organisation," Mr Hickson said.