Matlock rock band Saracen use Robin Beck for Marilyn Monroe LP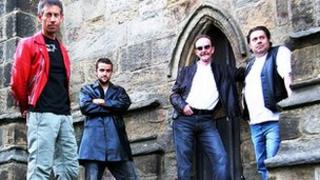 A Derbyshire rock band have teamed up with an eighties pop star to record a Marilyn Monroe-themed concept album.
Saracen, from Matlock, enlisted the help of US singer Robin Beck to provide the voice of the Hollywood icon on several tracks on Marilyn.
Beck, who had a UK number one hit in 1988 with First Time, was approached through a friend of the band who works in the music industry.
Guitarist Rob Bendelow described her contribution as "an inspiration".
The band, which formed in 1977, came up with the idea for the collaboration two years ago when Bendelow wrote a song about Monroe's relationship with John F Kennedy for use on a concept album about the former US president.
'Left speechless'
After Beck agreed to lend her vocals to the track, Bendelow was so impressed with her performance he decided to change the whole direction of the album.
He said: "Robin's performance of the song left me speechless and perspiring. One Sunday morning, with a pal we listened to it in my car.
"His smile was so wide when Robin ripped out of the speakers that I thought his jaw was going to break.
"He asked me how many songs Robin was going to do on the album. When I replied: 'Just this one I think?', he retorted: 'You must be joking.'
"Our discussions that day led me to re-evaluate the whole album to determine which songs had to come from Marilyn.
"I was then able to talk to Robin about the possibility of her doing all of the first person numbers - some of which weren't even written at that point."
West-end musical
"Robin was totally up for it - it was delightful. She truly stepped up to the plate with each song in turn.
"I used my wife's reaction each time as an acid test. When listening to Robin's rendition of Not For Sure, Bridget's goose pimples were the size of blueberries.
"I found Robin's attitude alone to be inspirational. It was all very special."
Beck's contribution was recorded at her home studio in Florida and added to the mix in the UK.
Marilyn also features contributions from legendary saxophonist Snake Davis who has played with Paul McCartney, Cher and Tina Turner.
Bendelow said he was delighted with the finished product and even dreams of one day turning it into a musical.
He said: "Pretty much everyone involved with this album has told me, independently, that it would make a fantastic West End-style rock musical.
"Recently we went to see We Will Rock You in Birmingham. Magnificent. But throughout the show, a little part of me couldn't help imagining Marilyn unfolding up there on the stage."