Manchester United engine nameplate fetches £40,000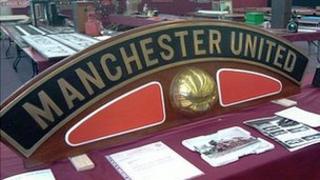 The nameplate from a steam engine called Manchester United has been sold for £40,000 after originally being bought for £15,
The brass sign was originally mounted on an engine which was built in 1937 but came out of service in 1960.
After avoiding the scrapyard, it spent time in America before being bought on Saturday by a UK-based collector.
Auctioneers Sheffield Railwayana said the sale, at Derbyshire Cricket Ground, was "good in tough times".
The nameplate was originally used by the London & North Eastern Railway (LNER) company for an engine which ran on routes including the London to Manchester line.
There had been speculation the auction would set a new record for such an item but it fell some way short.