Ripley killer Lee Barnes jailed for murdering Christopher Clowes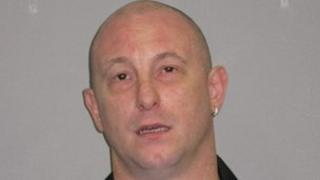 A Derbyshire man has been jailed for 22 years for murdering a man in a knife attack after an "alcohol-fuelled" row.
Lee Barnes, 38, of Butterley Hill, stabbed Christopher Clowes, 40, of Manor Croft, Ripley, in the chest with a kitchen knife in April.
He was found guilty at Nottingham Crown Court after a four-day trial.
The court heard that Barnes stabbed his victim with such force that the blade of the knife broke after a fight broke out at Barnes' home.
'Vicious stabbing'
Barnes had invited Mr Clowes and his girlfriend around to his house for drinks after they got talking in a pub beer garden in Butterley Hill.
An argument broke out between the two men which ended with blows being traded, the court heard.
Janine Smith, senior district crown prosecutor, said: "Christopher Clowes died after what appeared to have started out as an alcohol-fuelled argument and escalated into a vicious stabbing."
Det Insp Dave Cox, who investigated the murder, said: "Barnes has never showed any remorse for what he did and it was a brutal act."
He added: "I'd like to thank those people who came forward and gave statements. It was a distressing case and the investigation team is very grateful for the assistance the public gave.
"Christopher Clowes' family and his girlfriend will never get over what has happened."