Robbers used sledgehammers to threaten security guards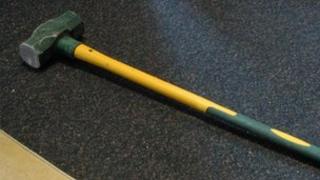 Police have released a photo of a sledgehammer used to break into a building society and threaten security guards.
Officers recovered the sledgehammer from Nationwide, on Bath Street in Ilkeston, Derbyshire, where the robbery happened at 20:50 GMT on Monday.
The security guards were delivering cash when masked men used sledgehammers to smash through the doors.
They took four cash boxes containing a "significant" amount of money.
The robbers dropped one of the boxes on the street then drove away in a hatchback car.
Initial reports suggest four masked men were involved, police said.
Officers hope the photo will jog the memory of anyone with information.