Chatsworth House's 10th Christmas celebration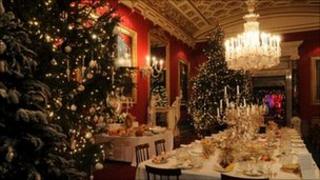 More than 15,000 baubles, 10,000 fairy lights and 500 handmade organza ribbons have formed part of Chatsworth House's 10th Christmas opening.
The 17th Century stately home in Derbyshire first opened at Christmas in 2001 after poor visitor numbers due to the outbreak of foot and mouth disease.
As well as traditional decorations, the house had a wishing tree on which 10,000 wishes were tied last year.
The "Deck the Halls" themed house and grounds were open until 23 December.
The Chatsworth Estate was closed for three months in 2001 when much of the UK's countryside was hit by foot-and-mouth disease.
Until this time, the house would usually close for the season after October half term but decided to try to attract more visitors by opening at Christmas.
The first year attracted 88,000 visitors and in 2010, more than 100,000 people visited the house.
'Spectacular' sight
Sally Hogg, Chatsworth House's head of marketing, said Christmas was a very special time of year for everyone at the house.
"It's a team effort, all done by the joiners and the collections team. We started on 5 November and it takes a week, with everybody working, to do.
"It's a real family home, the duke, the duchess and the grandchildren get involved with the decorations and the theme."
Past themes have included A Russian Christmas and Victorian decorations.
This year's Deck the Halls is a visual celebration of 15 carols including While Shepherds Watched Their Flocks By Night and God Rest Ye Merry Gentlemen.
More than 40 Christmas trees have been placed around the house and garden and three 7ft tall (2.1m) figures are standing in the Painted Hall as the three kings.
"Not only is the house spectacular when the house isn't dressed, when you have got the 25ft (7.6m) trees in there with mulled wine and mince pies, it's just lovely," added Ms Hogg.
Although the grounds are open all year round, the house will close on 23 December and will reopen on 11 March 2012.