'Heartless' thieves steal Granby Park swing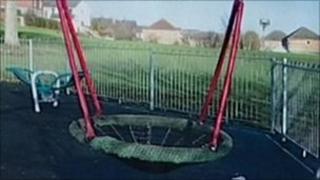 A Derbyshire councillor has called thieves who stole a swing designed for disabled children "disgusting" and "heartless".
The basket swing, which cost about £1,000, was taken between 5 and 12 December from the children's play area in Granby Park, Cotmanhay.
The thieves also dismantled and took the 6ft (1.8m) chain that linked the swing to its metal frame.
Erewash Borough Councillor Mike Wallis appealed for the swing to be returned.
"This is a very specialised piece of equipment that is particularly useful for children with disabilities and we're absolutely disgusted and very much upset that someone should do this," said Mr Wallis.
"It's a very heartless crime. We are appealing to the local community to help find those responsible and help us return the swing to the park for the enjoyment of local families."