Mother Rachel Henson's regret at fatal fire mistakes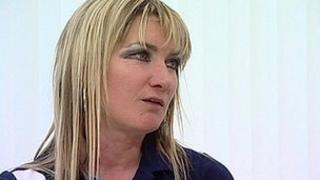 The mother of four children who died in a house fire has said she accepts an inquest's verdict that better fire prevention could have saved them.
Rachel Henson lost her children, Tommy, nine, Alisha, six, Rocco, four, and Appolonia, two, when fire engulfed their home in Derbyshire in January.
At the inquest, a coroner ruled that smoke detectors and a fire guard could have saved their lives.
Ms Henson said the verdict had raised some "important points".
Derby Coroner's Court heard the fire, on 24 January, was probably caused by a spark from an unguarded fire.
Damp logs
Ms Henson told the hearing the fire had been installed just two or three weeks before the blaze but she had struggled to find a fireguard.
She also said she had disconnected two mains-operated smoke alarms with a hammer when they had started going off a while before the fire.
Ms Henson told the hearing she had simply forgotten to put them back together.
South Derbyshire Coroner Robert Hunter said he hoped the wider public would take notice of the issues raised during the inquest.
Mr Hunter said he was satisfied from evidence that the fire had been started by a damp log being put on smokeless coals on the fire, which burnt at a very high temperature.
Evidence given to the inquest by a chimney engineer showed the moisture content in the logs used by Ms Henson was above the usual acceptable level, which caused the water inside them to boil and the wood to split open.
Mr Hunter said he would be using his powers as coroner to write to the Office of the Deputy Prime Minister to raise concerns about logs being sold as "seasoned" when they were in fact too moist.
He said: "Larger suppliers of these logs do season their logs but smaller suppliers do not.
"I feel this is a Trading Standards issue as the public are being misled by dealers who pass off unseasoned logs as being seasoned."
'Distressing time'
The inquest heard Ms Henson had drunk a bottle and a half of wine on the night of the fire, though she said she was "tired and ready for bed rather than drunk".
And a firefighter questioned her claim she was blown out of the window by an explosion, saying there was no evidence of such a blast.
But Ms Henson said the hearing had been "very fair".
She said: "There's some important points that we ought to deal with - smoke alarms and fire guards - and it's just been a very distressing time."
The hairdresser said she had returned to work but could not stop thinking about the fire.
She said: "Every day is very difficult but I feel it's slowly getting better. The mornings don't seem as harsh as they did at first.
"I replay it in my head every day but I've had lots of support - lots of cards and lovely flowers, people wishing me well for the future.
"We've not had any counselling. I've done really well because I've managed without any sleeping tablets or anti-depressants. We've just been keeping ourselves going.
"I'm devastated but there are moments of happiness when we go out to do something. You'll perk yourself up a bit.
"If it's getting to me quite a lot I'll go out in the car, put some music on and try to take myself away from it for half an hour."