Recruitment drive for 'Chesterfield Ambassadors'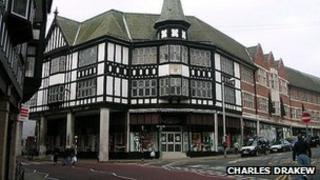 Street cleaners, security guards and restaurant staff are among the first wave of "ambassadors" being trained to help promote a Derbyshire town.
The volunteers attended a workshop designed to give them interesting facts about Chesterfield and its future development to share with visitors.
The scheme was set up by Destination Chesterfield, an organisation created to help boost the town's prosperity.
Now it is appealing for more "ambassadors" to train in the new year.
First impressions
Future plans include the £4m refurbishment of the Market Hall and the £300m Peak Resort leisure development on the site of a reclaimed opencast site at the Birchall Estate in Unstone.
Peter Swallow, chairman of Destination Chesterfield, said: "The first impressions visitors receive will shape their opinion of Chesterfield.
"We want front-line staff to be confident to talk about Chesterfield and the exciting plans for the future."