Nominate an unsung hero for the 2012 Community Champions Awards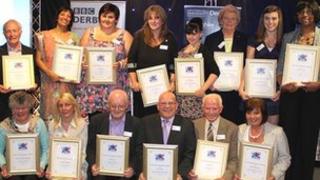 They are the people we all know, that seek no reward for their outstanding effort in helping others.
Who do you know that goes out of their way to support others in their community? We want to hear from you, so that we can celebrate their great work.
They might be a volunteer, a carer, someone who shows great courage, a person who inspires others, a fund raiser or perhaps a great neighbour.
BBC Radio Derby wants your nomination for a person you think deserves to be a Community Champion.
Star-studded
The Community Champions will be announced in a star-studded awards ceremony at Pride Park Stadium in May.
Just nominate the person you think ought to be recognised and tell us why. We will put them in the most suitable category of the awards listed below.
Download and complete the simple nomination form below and email it to derby@bbc.co.uk. Alternatively entry forms and details are available from BBC Radio Derby's reception (01332 361111) during office hours.
Community Champions nomination form
Award categories
The award categories will be:
1. Carer
2. Fundraiser of the Year
3. Cultural Champion
4. Diversity
5. Achieving Against the Odds
6. Children in the Community
7. Courage
8. Extra Mile
9. Great Neighbour
10. Kindness to Animals
11. Unsung Sporting Hero
12. The Chief Constable's Special Award
13. The Mayor's Volunteer Award
14. The 'Be Inspiring' Award
Each winner will receive a trophy, a certificate and a bottle of champagne (if over 18).
Agreement
Before submitting your nomination please read the Community Champions Terms and Conditions
Privacy Notice
Your email address and contact number will be used to contact you to find out more about your nomination and to obtain contact details for the nominee.
Nominations which are not short-listed will be destroyed within six months.
If you nominate a winner or someone who is short-listed your name and contact details (and those of your nominee) will be kept for future news and journalistic purposes associated with the Community Champions Awards.
For more information see the BBC's Terms of Use for access and use of 'bbc.co.uk' and the BBC Privacy Policy.
Please note that your information will be passed to the Derby Telegraph and handled in accordance with the Community Champions Awards terms and conditions.
Community Champions nomination form
Once completed, email your completed nomination form to derby@bbc.co.uk
What happens next?
We will feature some of the best stories on BBC Radio Derby, online and give out the Community Champions Awards at Pride Park Stadium in Derby on Sunday 13 May 2012.
Winners (and their nominators) will be notified before the awards ceremony and invited to attend.
Nomination forms and details are also available from BBC Radio Derby's reception (01332 361111) during office hours.
Nominations open on Wednesday 11 January and close at 17:00 GMT on 6 April 2012.
Please keep checking this site for the most up-to-date information.