Derby County plans for new Pride Park plaza approved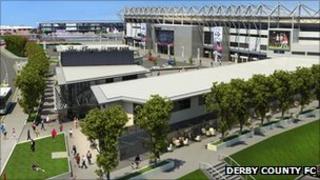 Derby County Football Club plans for a £7m development at Pride Park have been approved by the city council.
The new proposals include five cafes and restaurants, two convenience stores and 2,000 sq m (21,527 sq ft) of office space.
Concerns about parking problems in Chaddesden had been raised by residents.
A "travel plan" was made a condition of the application being granted approval at a council meeting on Thursday.
Mr Wood, leader of Derby City Council's planning committee, said: "One of the key considerations is that the development would result in 100 fewer car parking spaces.
"Car parking on match days is pretty horrendous. It's a nightmare for people living in Chaddesden where people can park for free," he said.
"We had to be careful that whatever we granted wouldn't make matters worse."
'No bus trip'
Objections from people who said Pride Park plaza would divert trade from the city centre were dismissed.
"You can't walk from the city centre to Pride Park with full shopping bags and there is no viable bus trip - you would have to do it by car, the same as every other shopping centre in the city," Mr Wood said.
The Pride Park plaza plans are a redesign of a £20m plan which was approved in 2007 but then shelved when new owners took over the club.
The new scheme would be alongside the multi-sports arena plans already being considered by the city council.
The income generated from the the plaza would be directly reinvested back into the club, Derby County said.