Arrest after stunning device raid in Newhall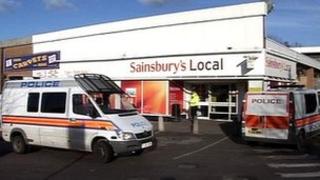 A 22-year-old man has been arrested after a masked robber threatened a shop assistant in Derbyshire by holding an electrical stunning device to her neck.
The offender demanded cash from staff at Sainsbury's on High Street, Newhall, at about 09:30 GMT on Thursday.
The device was discharged and the woman was treated by paramedics for minor injuries, a spokesperson for Derbyshire Constabulary said.
The device was about the size of a mobile phone.