Toyota jobs offered at Burnaston factory open day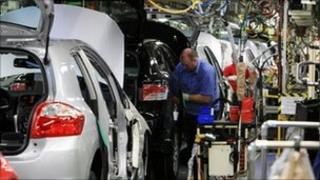 An open day is being held for people interested in hundreds of jobs at a Derbyshire factory.
In November, Toyota said it was investing £100m in its Burnaston factory to build a new hatchback model.
An initial 500 vacancies will become available this year with another 1,000 created in 2013.
The company, which is holding the open day on Saturday, said there had already been hundreds of applications.
A spokesman said the open day will let prospective candidates learn more about what jobs were on offer and meet current members of staff.
The factory currently produces the Auris and Avensis models and employs more than 2,600 people.
But the recruitment comes after a number of difficult years for the company which saw hundreds of jobs lost.
The global economic downturn and product recalls, along with the Japanese Tsunami and floods in Thailand, saw Toyota lose its position as the world's largest carmaker.
The open day begins at 10:00 GMT on Saturday.