Double arson attack on Littleover community pavilion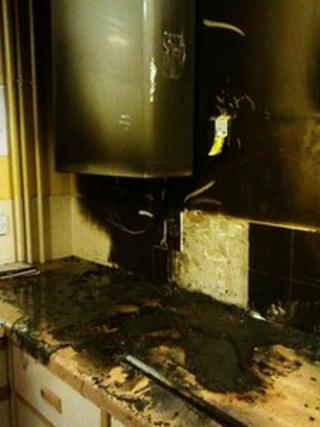 Arsonists have attacked a community pavilion in Derbyshire twice in one weekend.
Firefighters were called to the King George Pavilion in Littleover on Friday after it was broken into and a fire started in its kitchen.
The pavilion was hit again 24 hours later when a fire was started in its changing rooms.
Volunteers said they were shocked and angered by the attacks, which have closed the building.
'Brazen' attacks
The pavilion, on the King George V playing fields, is used by youth clubs and football clubs and also for coffee mornings and exercise classes.
Dawn Gee, who helps run the pavilion, said the fire damage was "soul destroying".
"Whoever it is, I don't think they realise the severity of the offence. They need to think about what they are doing," she said.
Windows at the pavilion were also broken on Sunday night and Mrs Gee said she was worried it would be hit again.
"The fact that they have come back three nights running is brazen," she said.
"I would like CCTV to come back on to the park as a priority."
Activities at the centre have been suspended while the damage is assessed.
A £200 reward is being offered for information leading to the prosecution of those involved in the attacks.