'No problems' with anti-gay leaflet, men tell court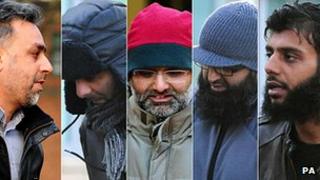 Two men told a court they did not see anything wrong with a leaflet calling for the death penalty for gay people.
Mehboob Hussain, 45, of Rosehill Street, Derby, and Umar Javed, 38, of Whittaker Street, admitted handing out a leaflet, called Death Penalty?, in the city in July 2010.
However, both men have denied intending to stir-up hatred.
Mr Hussain told Derby Crown Court he did "not see any problems" with the leaflet.
He told the jury: "I just read it and to me it was just the Koranic verses on there and the history of England's law.
"I did not see any problems."
He added: "It's the duty of a Muslim to pass on the words of God."
Mr Hussain and Mr Javed said their co-defendant Ihjaz Ali, 42, of Fairfax Road, Derby, gave them the leaflets to distribute in Rosehill Street, near to the Jamia Mosque.
'Right channels'
Mr Javed said he believed Mr Ali had had the leaflets checked for any possible criminal offences.
He told the court: "He showed me the leaflet and I looked at it.
"I said: 'You're still going through the right channels to check the leaflets are fine?' and he said that it had been checked and it was OK."
Two other Derby men, 28-year-old Razwan Javed - Umar's brother - of Wilfred Street, and Kabir Ahmed, 28, of Madeley Street, are charged along with Hussain, Javed and Ali with distributing threatening written material intending to stir up hatred on the grounds of sexual orientation.
It is thought to be the first prosecution of its kind since legislation came into force in March 2010.
All five men deny the charges.
Mr Javed, a takeaway worker who is married with six children, said he did not think the leaflets were offensive or threatening, but after listening in court to the testimony of four gay men who received the leaflet through their doors, he thought differently and wanted to send them a written apology.
"That was not my intention to make them upset," he added.
The leaflets were distributed as a counter-protest in response to the Gay Pride parade due to be held in Derby on 10 July 2010, the court heard.
The trial continues.