Sports groups welcome Derby's arena and velodrome plan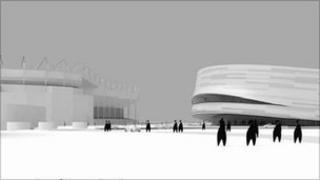 Derby's "leisure centres are not a great place to be," the city council admitted during a meeting with local sporting organisations about a planned new velodrome.
Paul Robinson, a strategic director at the council, made the comment during the meeting on Wednesday.
Moorways and Queen's leisure centres are, it is widely accepted, past their sell-by-date. They would need tens of millions of pounds of renovation work.
So from that starting point, the alternative - a futuristic velodrome - begins to seem quite grounded.
Not surprisingly, cyclists can barely contain their enthusiasm.
Jim Crew, chairman of cycling club Derby Mercury RC, said the planned building was "out of this world".
"Looking at the plan, that's an international-standard facility," he said.
"It could be in demand for international competition and that brings kudos to Derby. I can't think of a negative.
"People will look at it and think, 'what's that doing in Derby?'"
However, the council has been adamant the venue will not just be for track cyclists.
A 125-station gym and fitness centre and sports hall big enough for 12 badminton courts will bring in the people and the income.
"Yes it will be used for cycling but this building is about involving as many people as we can.
"We want to be the most active city in Britain. Leisure has a big role in keeping people healthy," said Mr Robinson, the city council's strategic director for neighbourhoods.
Concert plan
One of the big questions still to be answered is how sport and leisure groups will share the venue with other users.
The council is keen to bring in concerts and exhibitions which could take up the sports hall, in the middle of the velodrome track, for days at a time.
John Stewart, from the South Pennine Road Club, said: "Some of the uses could be mutually exclusive."
He added that all of the users "will want to know what sort of time-sharing code of conduct will be in place."
But Anne Henderson, from England Netball, said sharing the building was not necessarily a problem.
"That's the same in any facility. For major events things are generally planned a long time in advance," she said.
She said she was keen for the building to be used by netball clubs and perhaps for elite competitions as well.
Mr Robinson said major events formed a relatively small part of the business plan but in the long term, the council hoped it will be a money-spinner.
'Big deal'
To begin with, naming rights could be sold to a company that wants to be associated with the venue.
After the meeting, John Forkin, managing director of Marketing Derby, which is responsible for bringing investment into the city, said he hoped the velodrome would attract people from all over the Midlands as a sporting and music venue.
"It's a big deal in terms of sporting facilities and that it can accommodate 5,000 people as an exhibition and concert venue," he said.
"We have Pride Park which can hold 30,000 people for larger events but as it's a football ground they are mostly in the summer and the Assembly Rooms, which can hold 1,500.
"Presently people have to go to Nottingham and Birmingham for larger bands and comedians. So they will be able to stay here and hopefully it will attract people from the wider area.
"It will be great when it happens."
Once the velodrome is open, the council hopes increased usage will mean it can reduce its subsidy for sporting sessions - from £1.5m a year to almost nothing.
Combined with plans for a 50-metre swimming pool and the possibility of a "Central Park" linking the two Olympic-quality venues, Derby's ambitious facilities could become big news far beyond the city's borders.