River Derwent flood prevention plan consultation begins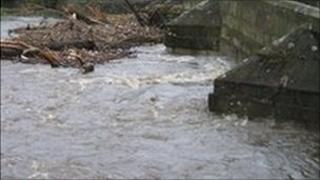 Proposals to build flood gates in the Derby area are part of an anti-flooding masterplan prepared by the Environment Agency and the city council.
The plans aim to protect 3,600 properties in the Lower Derwent Valley that are at risk during a severe flood.
Consultation on the plans will run until 9 March.
One of the proposals would see the creation of green spaces in the city centre to handle floodwater in a bid to limit damage to properties.
Action needed
The cost of some of the flood prevention work would be covered by the private sector, the report on the plans said.
Environment Agency spokesman Innes Thomson said: "The masterplan is a key step in safeguarding thousands of people and properties along the river banks, from Darley Abbey Mills in the north, to Derby Junction Railway Bridge in the south."
Councillor Matthew Holmes said: "We need to protect both our communities and local businesses from flooding in the future and we have to act now, this cannot be kicked into the long grass and left to future generations to resolve."
He said the city council needed to work with developers and businesses on key sites on the river to discuss what can be safely built there.
Residential communities, businesses, major routes in the city, and the Derwent Valley Mills World Heritage Site, would all be affected during a major flood.
Leaflets, which include a response slip allowing the public to have their say, have been distributed to 7,000 properties in the area.