NHS watchdog: Derby Hospitals Trust needs financial overhaul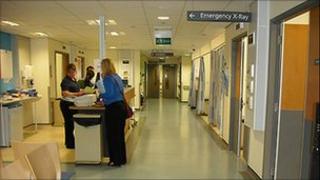 A Derby hospital trust's finances have been put under "close scrutiny" by an NHS watchdog after a critical review.
Derby Hospitals NHS Foundation Trust, which runs Royal Derby Hospital, has no financial surplus and had a £4m overspend on medical costs last year.
Monitor, the body that regulates NHS foundation trusts, said it will step in unless it becomes "financially stable".
A trust spokesman said patient care "has not been affected in any way".
'Cost controls'
Sue James, the trust's chief executive, said the £4m overspend was the result of increased emergency admissions over the past year.
"We were always aware that this would be a difficult financial year and warned staff early on that we needed to make efficiencies both this year and next in order to sustain our financial stability," she said.
Mrs James said the trust had introduced "strict controls on costs", including a freeze on all non-clinical vacancies which should result in £20m savings from its £420m budget.
The trust plans to save another £21m to balance its books by making more efficient use of beds, theatres and outpatient clinics, she said.
Monitor said an independent review indicated the trust's board did not have "a strong enough role in scrutinising financial planning and performance".
Monitor director Richard Guest said: "It's important for patients that the trust's board has an effective plan in place to address our concerns and improve their financial position.
"That's why we've required extra assurance that the right action is being taken to get the trust back on track."
The NHS watchdog wants the trust to get external advice on a recovery plan and implement "robust cash forecasting, reporting and management".