New Derby office block may create 250 jobs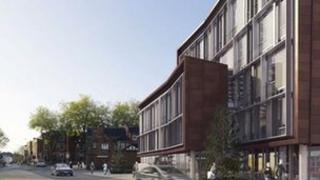 A new office development in Derby could create about 250 jobs, the city council has said.
The council is funding the first phase of the project which will see a six-storey office block built on Friar Gate Square from its £10m regeneration fund.
The authority said it hoped by funding this scheme it would attract other firms to invest in the city.
Work is due to start on the project on 13 February and it is expected to be completed by January 2013.
Councillor Phillip Hickson, leader of the city council, said: "This project will deliver major regeneration benefits and provide an enormous boost for the city.
"The council has an ongoing commitment to stimulating the economy in Derby and the purpose of the regeneration fund is to help kick-start schemes which otherwise might not start because of the economic climate.
"If we encourage developers to start work on new schemes, they will become a catalyst for others to follow and the city will benefit from the major inward investment that is generated."
The authority said phase two of the development would begin when all the units in the first phase had been let.
The council's regeneration fund was set up to create more office buildings in the city centre through partnership with the private sector.