Plans on show for £100m revamp of Castleward, Derby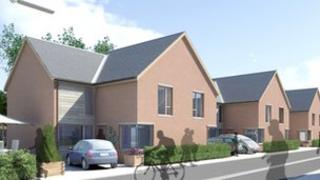 Plans for a £100m regeneration project in Derby are to go on show to the public.
The city council awarded the contract to build the development in the Castleward area to developers Compendium Living in March 2011.
The scheme, which will link the city's railway station and the city centre, includes up to 800 new homes, a school, leisure facilities and green spaces.
Plans will be on show at the Westfield centre on Friday and Saturday.
Dave Bullock, managing director of Compendium Living, said the firm would take account of feedback from residents before submitting a planning application for the first phase of the development.
"The regeneration of Castleward signifies a new era in Derby, so we're really keen to discover the public's reaction to these exciting redevelopment plans.
"We believe our ideas will give Castleward the 21st Century boost it craves, creating a high quality community and creating future jobs in a tough economic climate," Mr Bullock said.