Ashbourne has entire market stolen by thieves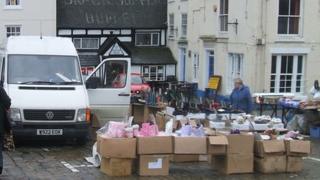 Thieves have stolen a market from a Derbyshire town.
About 60 stalls used at Ashbourne Market were taken from the Mayfield Road depot overnight, along with a strimmer and a leaf-blower.
Police said the raiders had stolen two trailers with the stalls inside. One of the trailers was found at Darley Moor.
Derbyshire Dales District Council's Jim Fearn said the Thursday market was open as normal with traders using their own makeshift stalls.
He said: "The traders are operating out of the back of vans, using trestle tables and some even have their goods on the floor.
"We're obviously not charging them today."
Mr Fearn said the thieves broke through a locked gate to get into the compound and then smashed their way into the depot building on site.
He said he thought the raiders were more interested in the trailers themselves, worth an estimated £6,000 each, than the market equipment inside.
The trailer was recovered at 08:25 GMT after a farmer reported it dumped on her driveway.