Spondon rail crossing prompts safety concerns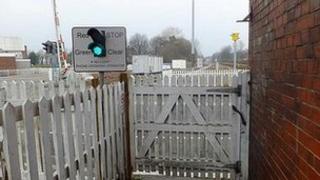 Claims a Derbyshire level crossing is needlessly dangerous for pedestrians have been rejected by Network Rail.
Retired signals engineer Malcolm Tunley said a gate at Spondon could be opened even with trains approaching and should be fitted with an electric lock.
It comes after Network Rail admitted safety failings over the deaths of two teenage girls hit by a train in Essex.
The firm said the Spondon crossing was different to that in Essex and a lock risked trapping people on the tracks.
The crossing has road barriers, along with flashing lights and a siren to warn of approaching trains.
Safety features
Mr Tunley said: "I believe this access gate should be provided with an electromagnetic lock to prevent egress and access to the crossing when a train is signalled.
"If people are already on the crossing and want to gain access to the platform, a release switch as provided for invalid access to many doors, could be provided."
Rachel Lowe, from Network Rail, said safety was taken very seriously and the current situation had been thought through.
"This crossing is not manned and is not monitored by CCTV - therefore if people become trapped on the crossing the only way they can get off is through that gate.
"If you had a switch on the inside of the gate, you don't want to be messing around with a switch if a train is bearing down on you, you want to get off and get off quickly."
However, Ms Lowe admitted Network Rail had a policy of removing level crossings where possible and it was in talks with local organisations about other options, including a bridge.