Police hunt for 'violent offender' Wayne Green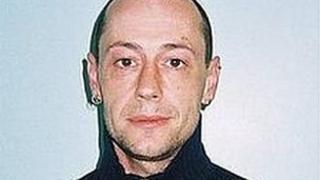 A man who is the subject of Derbyshire's first Violent Offender Order is being sought for breaching its terms.
Wayne Green, also known as Stephen Cross, aged 41, was given the five-year order in 2010.
It bans him from Long Eaton - his original home town - and from contacting named individuals.
Sixty Nottinghamshire and Derbyshire police officers have already raided seven addresses in the search.
Violent Offender Orders aim to cut reoffending by restricting movements of particular people released from prison.
When the order was imposed police said the order was needed to deal with a "serious risk of violence".
Green is also wanted by Nottinghamshire police on suspicion of burglary and theft.
Two women, aged 59 and 39, were arrested during the raids on suspicion of assisting an offender. A man was also arrested on suspicion of cannabis production.
Crimestoppers has offered a reward of up to £1,000 for information that leads to the arrest of Mr Green.
He is described as being white, 5ft 8ins (1.73m) tall and of medium build. He is bald with a goatee-style beard and a tattoo on his left arm.