Derbyshire woman wants mobility scooter driving tests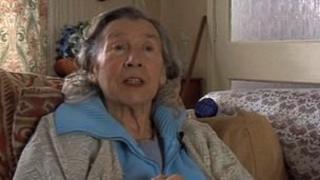 A Derbyshire woman who was hit by a mobility scooter wants mandatory tests for people who drive them.
Joyce Steeples, 84, from Ilkeston, was knocked down on a pavement and spent two weeks at Nottingham's Queen's Medical Centre with a broken hip.
"If they've never been used to driving they haven't a clue really," she said.
The Royal Society for the Prevention of Accidents has called for voluntary training but stopped short of backing mandatory tests.
The driver of the mobility scooter who hit Mrs Steeples while she was shopping in mid-January was not detained.
'Kept coming'
"I was walking with my mind on just catching the bus and all of a sudden wham in the middle of my back and I was sent flying," Mrs Steeples said.
"It knocked me straight down - if the lady had switched off the motor it wouldn't have been so bad but she panicked and it kept coming at me and it broke my hip."
Mrs Steeples did not go directly to hospital because did not realise she was seriously injured, but was found lying on the floor of her house the next day in pain.
A RoSPA spokesman said that extensive new regulations were not necessary, but called for better "guidance and training" for mobility users and providers.
"Without reliable accident data, it is more difficult to judge what, if any, additional regulation would be justified, given the need for such regulation to be proportionate to the risk and not to prevent people from receiving the benefits that mobility scooters provide."
A spokesman for the Driver Vehicle Licensing Agency said Class 3 scooters, which can travel at speeds of up to 8mph, must be registered but people who drive them do not need a licence.
He said some mobility scooter firms had schemes to train new drivers, but the schemes were not controlled by the DVLA.