Queen's Park Sports Centre in Chesterfield to get £2.5m refurb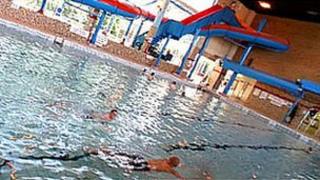 A Derbyshire leisure centre is to receive a £2.5m modernisation, the council has said.
The work will see Queen's Park Sports Centre in Chesterfield refurbished and new activities offered.
In January, Chesterfield Borough Council announced it was keeping the centre, along with Staveley Healthy Living Centre, under its own control.
The previous administration at the authority had proposed outsourcing management of the two facilities.
The council also said it was investing £50,000 in a community sports outreach programme to involve residents from deprived areas.
'London Olympics'
Nick Stringer, from Chesterfield Borough Council, said: "One of our top priorities is to encourage more and more people to actively engage in sport and recreation, and what better time than the present with the London Olympics now within sight.
"We've considered the previous council administration's option of outsourcing the management of the leisure centres but believe that we hold the expertise and experience within the council to drive forward the necessary reforms without reliance on private companies.
"We feel this is the best route to go down so that we can guarantee all members of the community access to quality and affordable leisure facilities and services, and continue to tackle the evident inequalities in health that exist across our borough."
The council has not yet said when work on the refurbishment will begin.