Underground cables replace poles on Peak District trail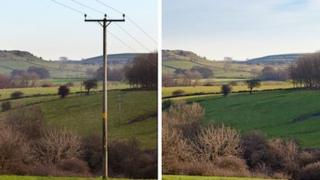 Twenty electricity poles have been removed in the Peak District as part of a £90,000 investment to improve views from the Pennine Bridleway.
The move is part of a £5.4m project by Electricity North West to remove overhead cables in its national parks.
The poles, which carried overhead lines between Tunstead and Wormhill, have been replaced with underground cables.
More than 70 miles (115 km) of the Pennine Bridleway passes through Derbyshire.
The scheme was supported by Friends of the Peak District and the Peak District National Park Authority, which assisted in identifying areas that would most benefit from the work.
Andrew Tickle, from Friends of the Peak District, said: "We have worked closely with Electricity North West and the National Park Authority and I'm sure that people are enjoying the even better views."