Robbers make Woodville woman, 97, hand over jewellery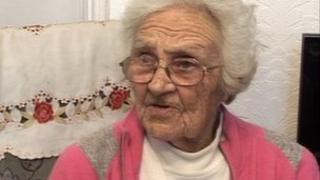 Robbers made a 97-year-old woman hand over the rings she was wearing after they sneaked into her Derbyshire home.
Winifred Bloor was at her house on Thorn Street in Woodville when two men sneaked in through an unlocked door at about 13:00 GMT on Wednesday.
The men confronted Ms Bloor and took three rings from her fingers and a gold, half sovereign necklace she was wearing. They also took some cash.
Derbyshire Police want anyone with information to contact them.
Ms Bloor was not seriously hurt but suffered some cuts to her hands.
One of the men is described as white, of large build, aged in his 30s and was wearing dark clothing.
The other man is white and thought to be in his 20s.
Police said they were investigating whether the men have previously been seen in the area.