Rats in Crufts-style competition in Derbyshire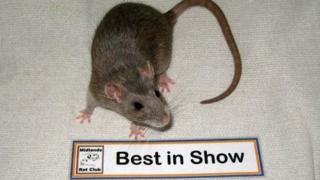 A club is holding a Crufts-style contest for rats at a Derbyshire village.
Lisa Harries, from The Midlands Rat Club, said specimens from across the UK had been entered into the contest at a village hall in Willington.
She said the rats were judged on a number of categories including appearance, colour and friendliness to find various winners.
"The show is basically a miniature Crufts," Ms Harries said.
'Dirty reputation undeserved'
"The rats are judged on what they look like, friendliness, their colours and markings because there are hundreds of different varieties," Ms Harries said.
"The judges place them in positions accordingly, the main award is the best in show winner.
"The National Pet Society sets out guidelines to follow, to choose the best variety, which is like a dog breed."
Ms Harries added that the rats, which are kept in specially sized tanks during the show, do not deserve their dirty reputation.
"They spend most of their time washing and grooming their coats... they're very clean animals.
"They're also very intelligent, a lot of people think they're wild, disgusting and carry diseases, but they're actually miniature cats and dogs."