Arrests after Woodville woman, 97, robbed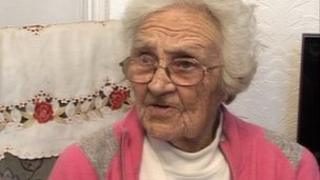 A second person has been arrested after a 97-year-old woman was forced to hand over rings she was wearing after they raided her Derbyshire home.
Winifred Bloor was confronted by the men at her Thorn Street home in Woodville after they got through an unlocked door, last Wednesday.
A boy, aged 16, was arrested on Tuesday on suspicion of robbery and released on bail pending further inquiries.
A 19-year-old man arrested previously remains on police bail.
The men confronted Ms Bloor and took three rings from her fingers and a gold, half sovereign necklace she was wearing. They also took some cash.
Ms Bloor was not seriously hurt but suffered some cuts to her hands.