Newhall Sainsbury's robbery: Victim speaks about ordeal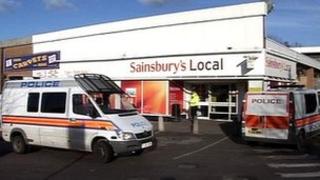 A supermarket worker who had a stunning device held to her neck during a robbery has spoken about her ordeal in a bid to help find the suspect.
A masked man entered Sainsbury's on High Street, Newhall, Derbyshire, on 12 January and demanded cash from staff.
Maria Vaughan, who has worked at the shop for more than 20 years, said she was still suffering from the ordeal.
"I'm taking one day at a time. If I'm on the tills I'm very wary of who's about," Mrs Vaughan said.
The 52-year-old said she was also threatened with a knife.
"He just demanded the money out of my till.
"Well, the first time he asked I just took no notice because I thought he was joking and then he said 'I'm not joking, give me your money'... he was swearing.
"He got this thing in his hand like a Taser, stretched over the till and pushed it into my neck."
The suspect escaped with an undisclosed amount of cash.
Mrs Vaughan added: "I've got to look who I'm serving... if it's a stranger. I won't go out on my own... not at the minute."
She was treated at the scene by paramedics for minor injuries following the incident.
A 22-year-old man arrested in connection with the robbery has been released on police bail pending further inquiries.
Anyone with any information is asked to contact Derbyshire Police.