Derby woman died from gastric band complications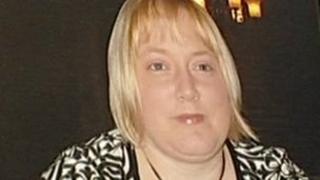 The death of a Derby woman after gastric band surgery was caused by a blood clot and a series of complications, a coroner has said.
Clare White, 37, from Sinfin, died in September 2010 after the operation at Royal Derby Hospital.
Her health was affected by diabetes, an undiagnosed heart disease and the clot on her lung, the coroner said.
The inquest was told Mrs White, who had weighed up to 19 stone (266 lbs), had tried in vain to lose weight.
Band 'erosion'
Deputy assistant coroner Paul McCandless said Mrs White had developed an infection because of a "rare but recognised complication of gastric band erosion" which then "weakened adjacent cells and allowed the movement of bacteria from the stomach".
She had been assessed by doctors at the Royal Derby Hospital who said she was a suitable candidate for the fitting of a gastric band.
Mrs White, a mother of three, was readmitted to hospital after the operation with an infection and died a month later.
The inquest heard that Mrs White had been told that the initial operation carried a 1 in 100 chance of complications and a 1 in 2,000 risk of death.