River Dove brook: Inquiry into cheese factory oil leak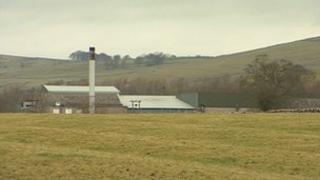 A clean-up operation has started after oil leaked from a disused cheese factory into a brook which feeds the River Dove.
The Environment Agency has installed absorbent pads in the brook in Hartington, Derbyshire, and has begun an investigation into the leak.
Developer Cathelco, which owns the factory site, said it would co-operate fully with the investigation.
Experts have said it is too early to assess the environmental impact.
Andrew Heath, manager of a local fishery, said: "We won't know what damage has been done until spring comes and we are able to monitor the insect population.
"That will tell us what impact it has had."
'Amazing river'
Cathelco said there was no evidence any of the spilled oil had reached the River Dove itself.
The Environment Agency said it had now stopped the leak but would continue to monitor the situation until the clean-up operation was complete.
David Annatt, chairman of Hartington parish council, said: "The Dove is an amazing river and I can't believe it's been polluted in this way.
"Hopefully the Environment Agency will ensure that proper recompense is found for this and will take whatever action they believe is necessary to make sure nothing like this can happen again."