Ex financial adviser Malcolm Green jailed for £1m fraud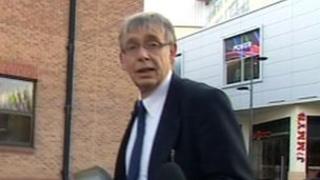 A former financial adviser from Derbyshire has been jailed for five-and-a-half years for cheating clients out of more than £1m.
Malcolm Green, 57, Swanwick, took money from clients, including the widow of a victim of the 7/7 bombings, and told them it was invested with major firms.
He admitted 19 counts of fraud by abuse of position and was sentenced at Derby Crown Court.
Green also admitted three counts of false accounting.
'Family friend'
One of Green's victims was the widow of Stan Brewster, from Swanwick in Derbyshire, who was killed in the 7/7 bombings in London.
Sandra Brewster lost an estimated £30,000, which is thought to have included some of the money she received as compensation for her husband's murder in 2005.
Speaking after the sentencing, Derbyshire Police's Andrew Small said: "She has gone through an awful lot in her life and she was trying to rebuild her life through the money she had received as a tragic result of the London bombings.
"She was a family friend and he had taken her [compensation] money."
The court heard Green, of of The Green, Swanwick, had spent the money on his failing business as well as gambling, drinking and holidays.
Recorder David Mason said: "These people trusted you and you blatantly deceived them into thinking they were saving for their future. In fact, you were stealing their money."
Green, who represented himself in court, said that what he had done would haunt him forever.
Handed himself in
The court was told Green does not have any assets. He was ordered to pay a token £1 towards the £1.1m he had stolen.
He also pleaded guilty to 20 counts of obtaining a money transfer by deception.
His victims have applied for compensation from the financial authorities.
The court heard the charges followed a police investigation into Pinxton-based MG Financial Services.
Green took money from clients, many from the Swanwick, Alfreton and Pinxton areas of Derbyshire, and told them it was to be invested in companies such as Prudential, Scottish Mutual and Standard Life, the court was told.
He handed himself into police in 2011 and admitted the offences, which dated back to 1992.