Derby Cathedral's event to remember asbestos victims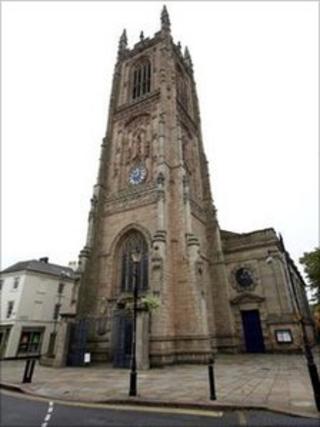 The names of more than 120 people who died after being exposed to asbestos have been projected on to Derby Cathedral.
The event, organised by Derbyshire Asbestos Support Team (DAST), aims to raise awareness of asbestos dangers.
The victims all died of mesothelioma, a cancer which is usually caused by exposure to the fibrous material.
They all lived in Derbyshire, Leicestershire, Nottinghamshire, Lincolnshire or Northamptonshire.
William Hunt, who lived in Ripley and was exposed to asbestos while working as maintenance engineer in Derby, was one of the victims.
His daughter Margaret Bailey, who also lives in Ripley, said: "He had a really horrible death and it was caused by mesothelioma. It was dreadful.
"I do feel very angry that other people who go to work have to die because of something they have been exposed to at work."
'Ticking time-bomb'
Mr Hunt died in November 2003 at the age of 93.
"It takes about 20 or 30 years before it actually comes out," said Mrs Bailey.
"We've spoken to some of his colleagues who are more our age and they said it was rife in the air. They feel it is like a ticking time-bomb inside them."
Mrs Bailey's husband, George, was also exposed to asbestos while working in a laboratory.
"Asbestos is awful and it's still around. Any properties built before 2000 could have it in them," she said.
Derby was chosen to host the event because of its industrial history.
Over the past year DAST has supported 82 people suffering from asbestos-related diseases in Derbyshire and a total of 257 families across the East Midlands.
Workers in heavy engineering and the construction trades, as well as power station staff, were among those exposed.
The ceremony included a minute silence to remember all those who have died from mesothelioma.
The cathedral will be illuminated from dusk until 22:00 GMT each day until 6 March.
The Health and Safety Executive estimates there are about 4,000 deaths each year as a result of historical exposure to asbestos.