Work starts in Matlock on £4m Derbyshire Records Office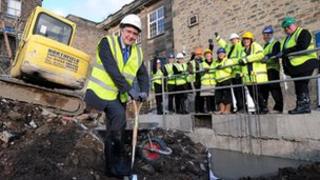 The foundation stone has been laid for a new £4m public records office in a Derbyshire town.
Work on the site of the two-storey extension to the Derbyshire Record Office, in New Street, Matlock, began in November.
The work will bring together, the county's historical collections and all items in the local studies library.
County Council leader Andrew Lewer, said it would be the home of Derbyshire's collective memory.
'Better experience'
The council said it was creating a modern and user-friendly environment for visitors.
Mr Lewer said: "The new record office will not only allow us to actively collect and safeguard Derbyshire's history for generations to come, it will also create a better experience for visitors."
During building work the record office will operate from a temporary building at County Hall, Matlock.
Documents that are held on microfilms, DVDs and CDs, such as parish registers, are available to the public from the local studies library on Bank Road, Matlock.