Ilkeston Community Hospital solar scheme is completed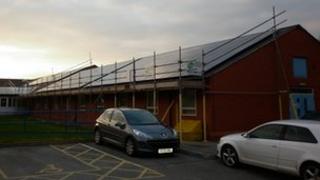 A Derbyshire hospital has been fitted with 212 solar panels in a scheme bosses believe could save it up to £1m over the next 25 years.
The £166,500 installation, at Ilkeston Community Hospital, is aimed at reducing its carbon emissions by 24 tonnes a year.
Health bosses said the panels were capable of generating up to 50kw of electricity on a sunny day.
Solar power could now be introduced at other health centres in the county.
John Parrott, from Derbyshire Community Health Services, said: "The panels are not yet operating at full capacity due to short winter days and overcast skies but are still producing a considerable amount of electricity for the hospital.
"We are monitoring the scheme carefully and will be looking to see if we can introduce solar power to some of our other NHS premises across Derbyshire."
Mr Parrott said the exact savings provided by the new panels would depend on the outcome of an impending court ruling on the value of government feed-in tariff payments as well as future electricity prices.