Smalley residents concerned over plans for second opencast mine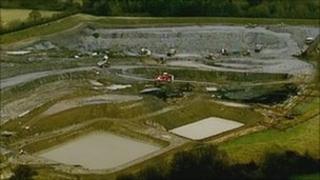 Residents in a Derbyshire village are concerned over plans for a second opencast mine, which they fear could expand towards their village.
LEM Resources wants to extract 400,000 tonnes of coal from a site between Smalley and Denby.
Nearby Lodge House mine was recently given permission to extend and extract an extra 750,000 tonnes.
John Beardmore, from the Smalley Action Group, said "these mines have a way of expanding".
He said: "The worry is that they'll get in - make a hole and want a phase two and a phase three and could slowly come towards Smalley."
UK Coal has already extracted a million tonnes of coal from the Lodge House site over the past four years.
A spokesman for LEM Resources said that because of restrictions on the proposed George Farm site the company was unlikely to be able to apply for any extensions in the future.