A38 Amber Valley camera plan to stop lay-by litter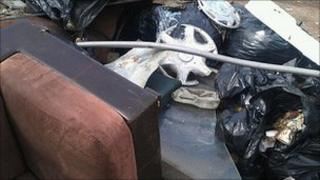 Cameras could be placed in lay-bys on a busy Derbyshire road to deter people from dropping litter.
In August last year Amber Valley Borough Council spent £6,000 clearing rubbish from beside the A38, filling 400 bags.
But the council has admitted the situation has already become as bad as before.
A senior official said he intended to have cameras installed and prosecute those found to be dumping waste.
Councillor Jack Brown said the situation had to improve.
"We are definitely going to put cameras in the lay-bys where people are dumping bags and we are going to catch them and they are going to get a summons.
"People are just not responsible, they are spoiling the countryside, they are spoiling everything and it is just not on."