Derby mosque plans approved despite concerns about size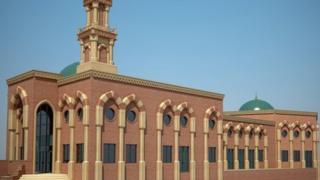 A mosque with space for 600 people has been given planning permission, despite concerns about its size and location.
Derby City Council planning officers had recommended the application for the mosque be refused.
However councillors on the planning control committee voted in favour of the plans.
Work to build the mosque, on land between Renals Street and Mill Hill Lane, will begin at the end of this year or in early 2013.
'Fabric of society'
Al-Samarraie, of architects Archi-Structure, said: "You can't expect them [worshippers] to pray in a semi-detached house.
"These are second or third generation Asian, so they are part of the fabric of the society
"So to say 'go away and find another better place' is defeating the object.
"They live in that community around there so we need to give them something that's suitable for them.
"What is the point of moving it somewhere else where everybody drives? You have traffic problems and carbon issues."
The two-storey mosque, with a 33-space basement car park, will be built on a disused brownfield site which previously housed two buildings.
It will be a replacement place of worship for the Al-Farooq Trust, which currently uses a converted house in Western Road.
The scheme had been recommended for refusal because of its physical dominance and the impact on the character of the local streets.
Issues raised by opponents included traffic problems, the size of the building, insufficient car parking, potential noise disturbance and light pollution.