New signs to protect Peak District sheep and wildlife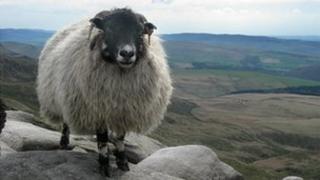 Warning signs are being put up around the Peak District after park rangers reported finding dead pregnant sheep mauled by dogs.
By law, dog walkers using the park must keep their animals on a short lead around farm animals at all times, and around wildlife from March to July.
Park rangers are putting up the signs reminding owners to be responsible.
The Peak District National Park Authority said the rule helped protect the dogs themselves.
Rangers north area manager Jenny Walker said: "Sheep and lambs can be badly injured or killed by uncontrolled dogs.
"Ground-nesting birds such as curlew and lapwing, and wild creatures such as hares, are also easily disturbed.
Shooting risk
"For its own safety, never let a dog approach or chase wildlife and farm animals - your dog can get kicked, trampled or lost, and it could be legally shot for chasing farm animals. This is distressing not only for you but for farmers too.
"If cattle turn on your dog, it's best to unclip the lead - a dog can usually look after itself, don't risk getting hurt by trying to protect it.
"Get out of the field as quickly as possible, then call your dog as soon as you are out of danger."
The Peak District also features several sensitive breeding sites which are completely off-limit to dogs but the authority said these areas would also have signs.