Third arrest over robbery of Woodville woman, 97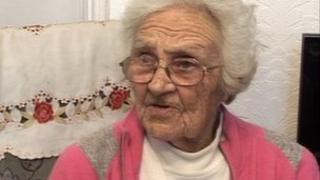 A third person has been arrested over a robbery in which rings were taken from a 97-year-old Derbyshire woman.
Winifred Bloor was confronted by intruders at her home in Thorn Street, Woodville, on 8 February.
As well as three rings, the offenders took a half sovereign necklace she was wearing and some cash.
A 16-year-old boy from Allenton has been arrested on suspicion of robbery and released on bail pending further inquiries. Two others are on bail.
A 19-year-old man and another 16-year-old boy were arrested last month.