James Cartland held at knife-point during attempted robbery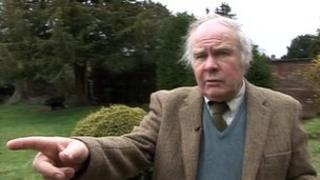 An antiques expert has described how he was held at knife-point in his home during an attempted robbery.
James Cartland, 64, from Ashbourne, in Derbyshire, believes he was targeted after featuring in a TV documentary.
He was tied up and forced to watch as the gang searched the property looking for items of value.
Mr Cartland, who has put up a £2,000 reward, managed to raise the alarm and the intruders fled, leaving some of his antiques in the garden.
He said: "I'm absolutely sure it's via a programme I did in my old home, Carnfield Hall [in Alfreton], that was on Country House Rescue [on Channel 4].
Mr Cartland said various things said by one of the robbers "would suggest he had watched the programme".
Two of the men were white and one black and all wore face coverings.
Police said they believed the men must have used a van or other large vehicle as they planned to transport antiques from the house.
"You expect to be able to lock your front door and wander about without being attacked by somebody waving a knife," said Mr Cartland.
"They must have done this sort of thing before, it was the way it was all done."
Mr Cartland was left uninjured but shaken by the ordeal which took place on Saturday.