Ashbourne market saved despite losses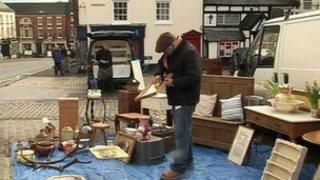 A Derbyshire market has been given a reprieve despite concerns about losses.
Ashbourne's Thursday market had been facing closure as Derbyshire Dales District Council felt it was losing too much money.
With up to two thirds of the pitches vacant and income from parking spaces lost, the council said it was costing tens of thousands of pounds.
But a meeting decided to fund it for another year to see if increased publicity would help.
Along with the Saturday market, the council said it was losing about £60,000 a year.
The council meeting heard a 244 signature petition had been gathered in support of the market and traders said more pitches had recently been taken up.
The district council leader, Lewis Rose, said: "We will do our bit to rise to the challenge but it will rely on others to rise to it too".
The authority said it would be increasing fees for stall holders by 5%, the first increase in three years.