John Port School pupils found with mephedrone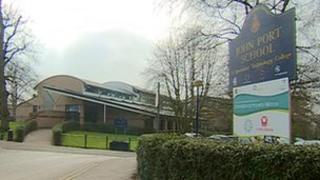 Two schoolboys arrested after being strip-searched at a Derbyshire school were carrying the drug mephedrone, police have said.
The boys, aged 15 and 16, were among a group of 10 pupils checked at John Port School, in Etwall, on 9 March.
Officers had ordered the search after being tipped off that drugs were being smuggled in underwear.
Derbyshire Police said the boys had been interviewed and admitted having the drug, also known as MCat.
'Not be tolerated'
They have been bailed while police work with members of the Youth Offending Team to decide how they will be dealt with.
The other eight pupils who were searched were not arrested.
Insp Paul Cannon said: "I'm pleased we've been able to take these drugs out of the school environment.
"We'll continue to work closely with the head teacher and other staff to maintain the high standards that John Port expects from its pupils. Drug misuse will not be tolerated."
Head teacher Wendy Sharp previously said: "We do everything we can at John Port School to keep young people safe. Part of that policy is a zero tolerance of drugs."