Duffield man running to Switzerland for cancer charity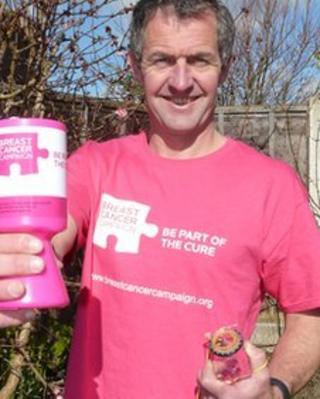 A Derbyshire man is to run 740 miles to Switzerland to raise money for research into breast cancer.
Gerard Varin will begin his challenge in his home village of Duffield on Sunday and is due to finish in Seleute, where he was born, on 1 May.
He will have to run the equivalent of a marathon a day.
The 47-year-old said he knew at least nine women in Duffield who had breast cancer and was inspired to do the run on their behalf.
"It's shocking that in this one small village so many women could be affected by breast cancer," he said.
"When my friend Tracey told me last year she too had the disease I felt helpless and wanted to raise money for Breast Cancer Campaign as a way of showing my support."
'Extraordinary challenge'
The keen runner, who has done the London Marathon three times, said he also lost both his mother and father to cancer before they reached the age of 60.
Mr Varin, a self-employed landscape gardener, will be losing five weeks of earnings by doing the run, but hopes to raise £20,000 for the charity.
He will be running alone but members of the Round Table, a community club with groups based worldwide, have pledged to help him by providing free overnight accommodation, hot showers and food.
Angela Adams, community fundraising manager at Breast Cancer Campaign, said: "This is an extraordinary challenge which few people would dare take on and we are so grateful that Gerard has chosen to do something like this for Breast Cancer Campaign.
"Funding research into breast cancer is vital in finding a cure for the disease, and it's thanks to the dedication of people like Gerard that the charity can continue to support research projects across the UK."