Derby Cathedral peregrine falcon lays first egg of the year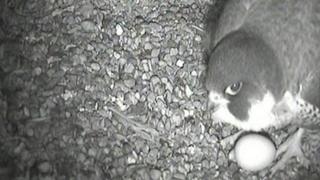 A peregrine falcon which has taken up residence at Derby Cathedral has laid her first egg of the year.
The same peregrine and her partner have nested there each year since 2006, and 19 chicks have fledged the nest.
The latest egg was spotted in the early hours of the morning by someone viewing awebcamwhich monitors the nest.
The peregrine falcon is expected to lay her next egg at about 15:00 BST on Saturday if she follows her usual laying pattern.
Nick Moyes, one of the Peregrine Project team members, said: "You can almost set your watch by peregrines.
"It's unusual and special to have them in Derby and now we've got them you are not going to have another pair move in because they would be seen off. They are territorial."
The male peregrine first appeared at the cathedral in 2005.
The female appeared the same year, then left, then returned.
Mr Moyes said she started making "nest-scraping shuffling movements" in spring 2006, so a nest box was installed for her.
Thousands of visitors
The pair produced three chicks which fledged the nest that year.
"A couple of thousand people turned up across the summer to watch these birds flying," said Mr Moyes.
"Sixty years ago they were close to extinction."
Webcams were installed in 2007 and Mr Moyes said a lot had been learnt about peregrines by monitoring the ones in Derby.
"We have produced the world's first videos that have proved things we knew already, like they hunted at night using city lights, which no-one had proved before," he said.
The peregrines stay in Derby all year.
"In America peregrines are migrating birds but in this country they stay around," said Mr Moyes.
"They are probably going to live for about 15 years."
The offspring are tagged and some have been spotted at Attenborough Nature Reserve, in Nottinghamshire.